How Much Is A Hearing Aid Repair?
The fee for hearing aid repair is $275 and comes with a 6 month repair warranty. If your hearing aid stops working correctly at any time within 6 months of a paid repair simply send it in so we can fix your hearing aid and return it to you at no cost.
How Long Does the Repair Take?
Your hearing aid is usually repaired in 5 business days.
---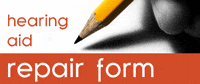 ---
What Should I Ship My Hearing Aids In?
For the safety of your hearing aids please send them in a small, crush proof box or other crush proof container (prescription pill bottles or vitamin bottles work great), packed securely with packing foam or tissue. Include a completed copy of our hearing aid repair order form. Just fill out the repair form, print it and include it with your hearing aid.
What If You Can't Repair My Hearing Aid?
It is very rare that we are not able to repair your hearing aid, but if that happens you will not be charged (or you will be refunded if you already paid), and your hearing aid will be returned to you at no cost. If your hearing aid becomes un-repairable at any point during its warranty under us, we will give you a full refund on the repair.
How Much Is Shipping?
We ship by USPS Priority and Express. Priority shipping is included for free with each and every repair, including in warranty repairs. Priority mail takes 2-3 business days.
Express shipping is also available for $29. Express mail takes 1-2 business days.
Shipments outside of the U.S. are subject to additional shipping fees.  Please call customer service for shipping fees.
---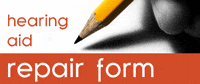 ---
How do I Pay?
You may send a check with the hearing aid to be repaired, or just have us give you a call once we have evaluated your instrument and pay by credit card over the telephone.
You may also choose to pay online through PayPal's secure server. We offer this option because we know that many people a hesitant to do business online. PayPal offers a money back guarantee when you make a payment through your PayPal account. If the services or product for the transaction are not delivered, then PayPal will send the money back to you and they will deal with the merchant directly.
If you choose PayPal or check, be sure to complete the hearing aid repair form first, then look at your copy to reference and calculate all items before proceeding with the secure PayPal payment or writing your check.
What If My Hearing Aid Needs a New Case?
If your hearing aid fits loose, or it has been stepped on or chewed (dogs love hearing aids), then you may need a new custom mold, often referred to as a re-case, or re-shell. This also includes repairs to the electronics with a 6 month warranty. We will need an impression of your ear which you can get from your local audiologist or hearing aid dispenser. We will give you a quotation on the cost and get your approval before we begin work on an instrument that needs recessing.
If you have a Behind-The-Ear  hearing aid that needs a new case we do not need an ear impression. For BTE hearing aids we will only need an ear impression if you need a new custom mold that attaches to the BTE. The fee for a custom BTE mold is $75 for a hard mold and $100 for a soft mold.
---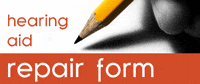 ---